In order for your rental(s) to be published on our partnered channels, you must reach 100% completion. Here is the list of details to complete to reach 100% completion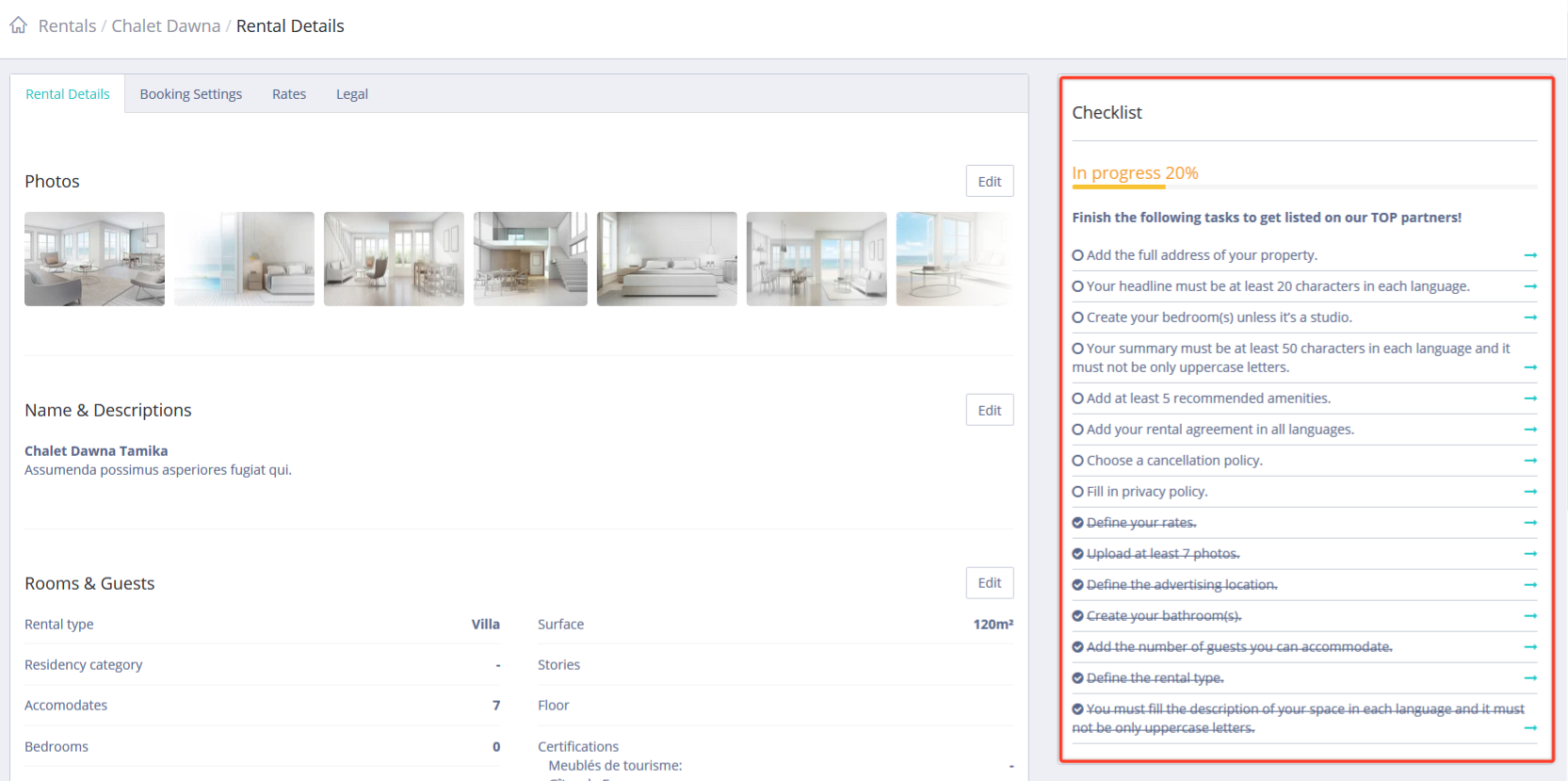 Rental description
Important point to always keep in mind: the listing that you are going to create is your only opportunity to showcase your property. All of the points below allow you to get better results by increasing the conversion rate of visitors to your page to confirmed bookings.
You have to upload a minimum of 7 pictures (ideally, we recommend to have between 10 and 20 pictures) for your guests to see the inside and outside parts of your property. The resolution must be minimum 2048x1536.
A title of at least 20 characters
A summary of at least 50 characters
A description under the Space section
Rental type
Residency category
How many people can sleep in the property
Surface
Create at least 1 bedroom, except if the rental type is a Studio
Create at least 1 bathroom
Check at least 5 items in the list including "Commodities" (Towels, sheets, soap, toilet paper and pillows) which is mandatory to be published on Airbnb. Note: You can set the price of the linen in the Rate tab.
A complete address: address, postcode, city and country
Select a geographic area
Add a certification (ex: Meublé de Tourisme or Gîte de France for the French market). The list of proposed certifications depends on the country in which your location is located. If you want to see other certifications, for France or other countries, you can tell us, we will be delighted with the addition!
Bookings settings
Check-in & Check-out
Here, you can configure the check-in details for your property:
Check-in Time: enter the time from which your guests can arrive
Check-in Instructions: enter all of the details that your guests will need to know about checking-in to the property. This information will automatically be sent to your guests by email a week before their arrival
Check-out Time: enter the time that your guests need to check-out of the property
Check-out Instructions: enter all of the details that your guests will need to know for their departure. This information will automatically be sent to your guests by email the day before they check-out
Preferences
Cancellation policy: choose between the moderate and strict cancellation policy. The cancellation policy that you choose impacts the payment terms for bookings as well as the cancellation fees charged to guests:
There is more information in this dedicated article: https://manual.smily.com/en/cancellation-policies
Advance notice: enter the minimum number of days before guest arrival that you can accept online bookings. For example, if you enter 3 days, it will be impossible to book online less than 3 days before arrival.
Rates
Legal
Rental agreement (e.g: regulations concerning the use of your property, number of guests, animals, smokers, inventory, payments, interruption of stay, cancellation conditions, insurance ...). You can find many templates on the internet that will help you writing your own terms and conditions.
Privacy policy
This will be used for all of your properties and must be entered on the Settings page under Privacy.
You can find our privacy policies templates to adapt: here