Our tool for managing your prices has been designed to be simple and intuitive! We have created functionality to allow you to adapt your prices according to the season, the number of guests, and the market price...
Prices are configured for each property.
How do I configure my prices?
You can setup your prices in the Rates section of each rental. The nightly price will then appear on the calendar.
In addition, you can use our simulation tool to check the prices that you have configured for a given period: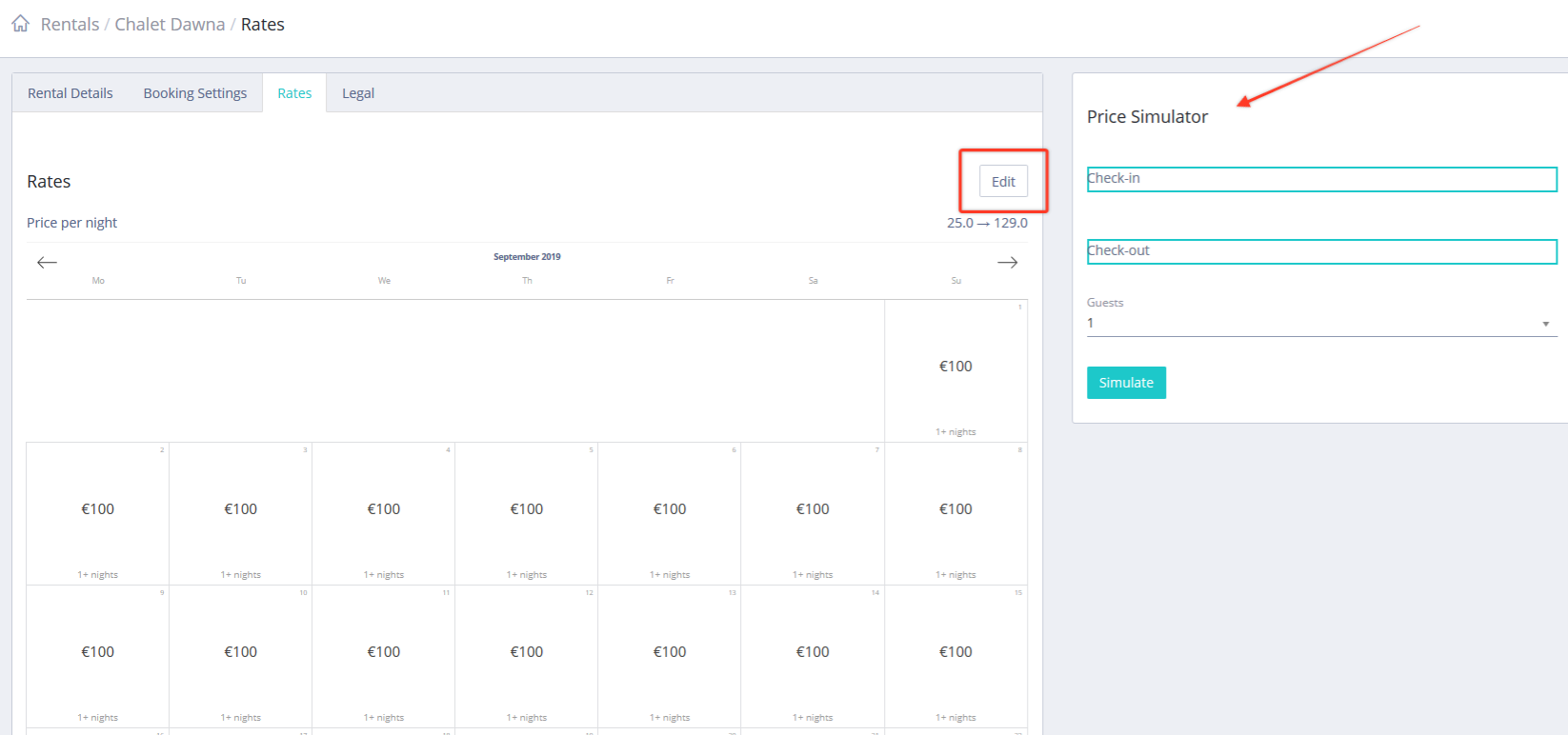 By clicking on Edit, you can configure your rates by date. All you need to do is to select a start date and a finish date, enter a nightly price and add any rules that you would like to apply for this period in order to:
- modify the price according to the characteristics of the booking (number of guests, length of stay, when the booking has been made...)
- choose whether or not to allow a booking to be made according to certain criteria (arrival day, minimum stay...)
Don't forget to fill in the start date and finish date and to click on Save changes so that your configured prices will be applied!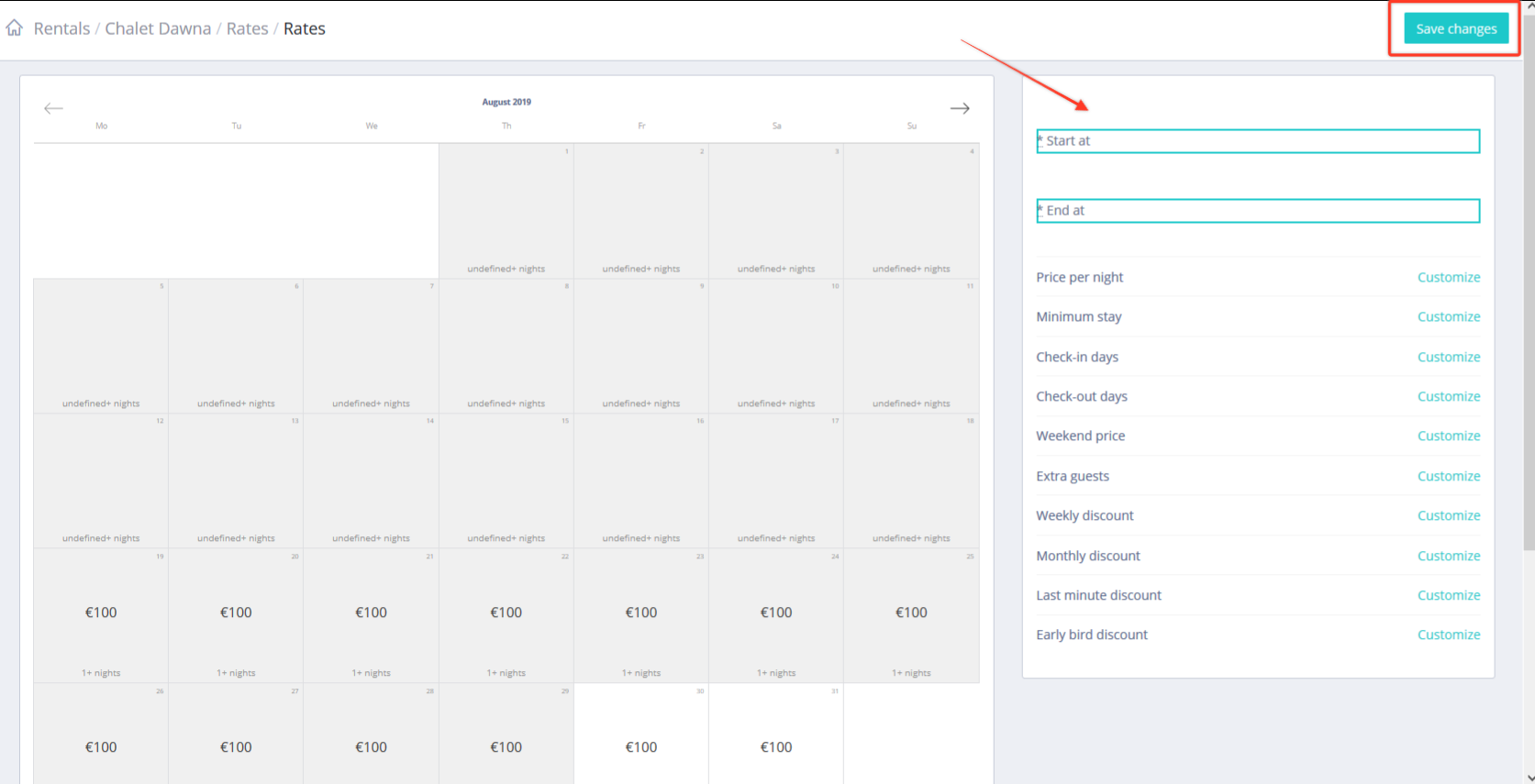 You can now see the pricing rules that you have configured bellow the pricing calendar.
If you wish to delete a rule, simply click Destroy next to the correct rule:

How do I setup special offers?
You can add special offers to any period of your choice: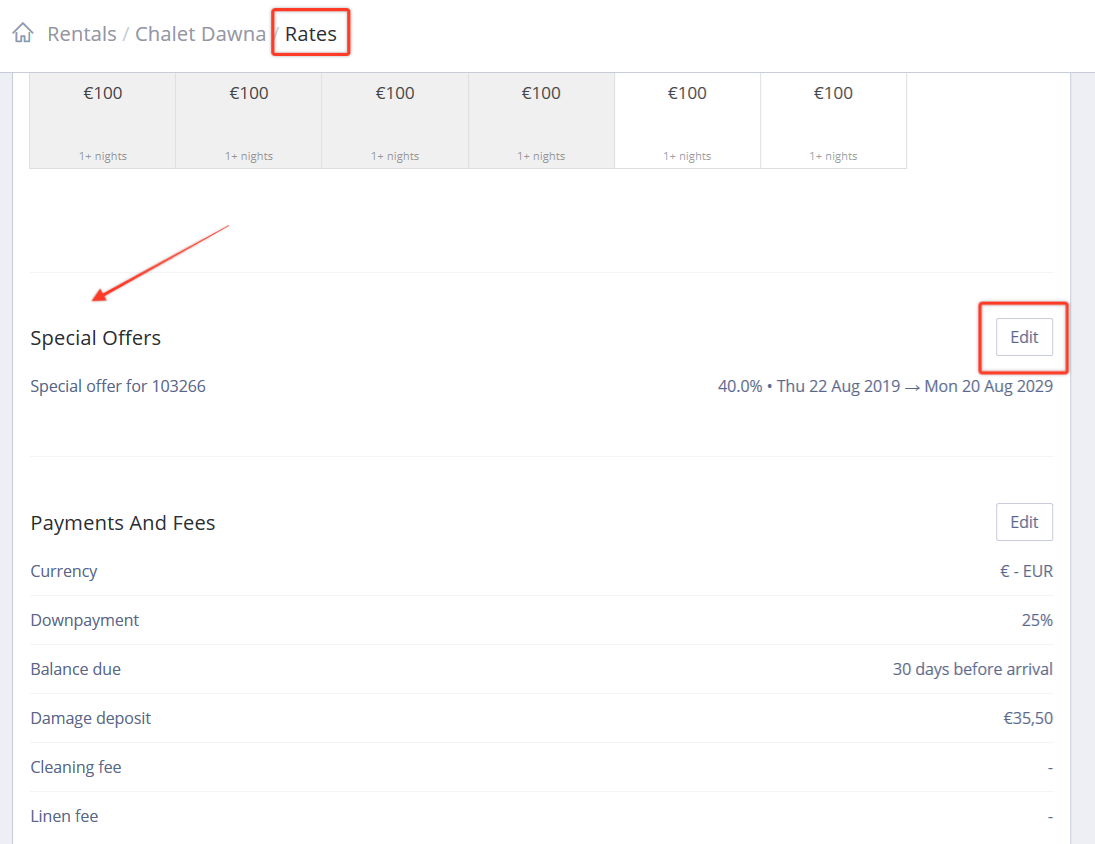 Why not, for example, add a special offer for the sunny days of September to attract more guests out of season? :)
Don't forget to always click Save to make sure that you special offer is applied!

How do I configure my payment settings:
For each rental, you need to add the payment settings that you would like to apply:
The currency (please note that only € are supported by our system at the moment)
The damage deposit amount that the guest will be required to pay on arrival (this is set to be paid on arrival by default, it is not possible to modify the setting to include the damage deposit in the online payment)
How do I setup my fees?
You can add additional fees to your prices, for example for cleaning or linen.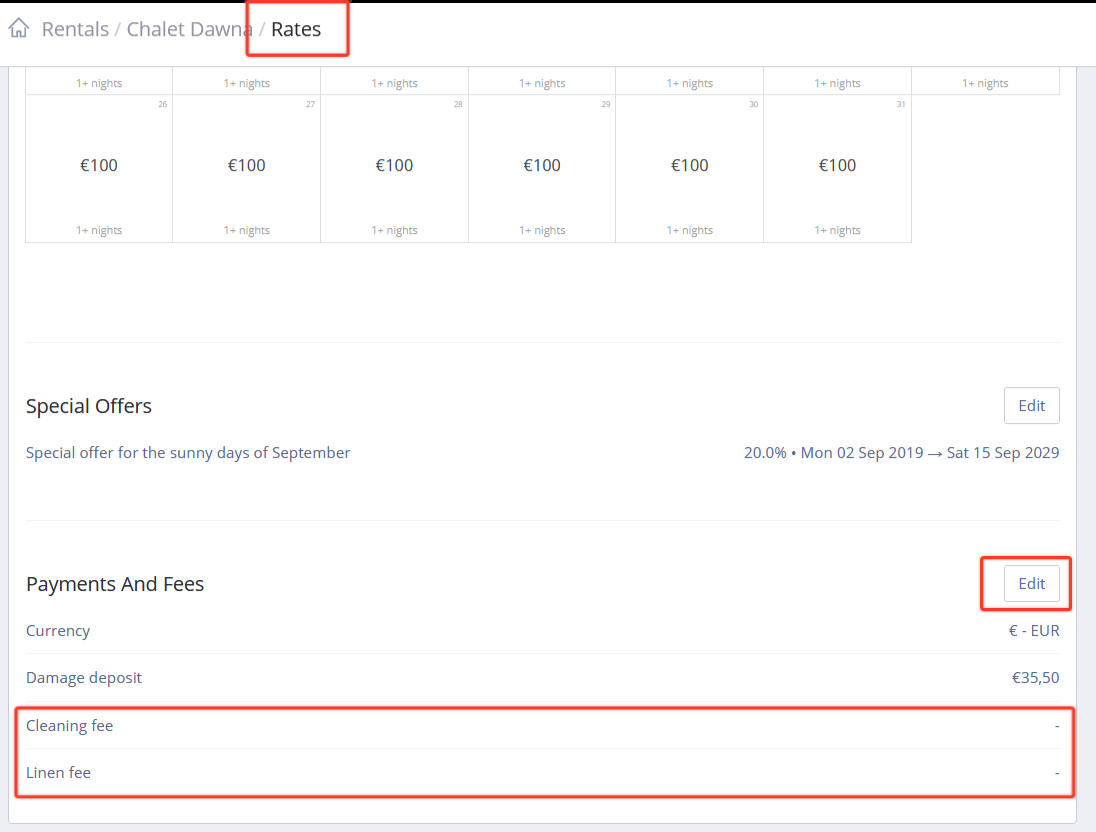 If the field for "cleaning" is left blank, this indicates that you do not provide the service. If the linen is left blank, it means this is included in your price and you don't charge extra for this.

We highly recommend you to provide cleaning and linen as most travellers expect these services. It will give you more visibility and more bookings.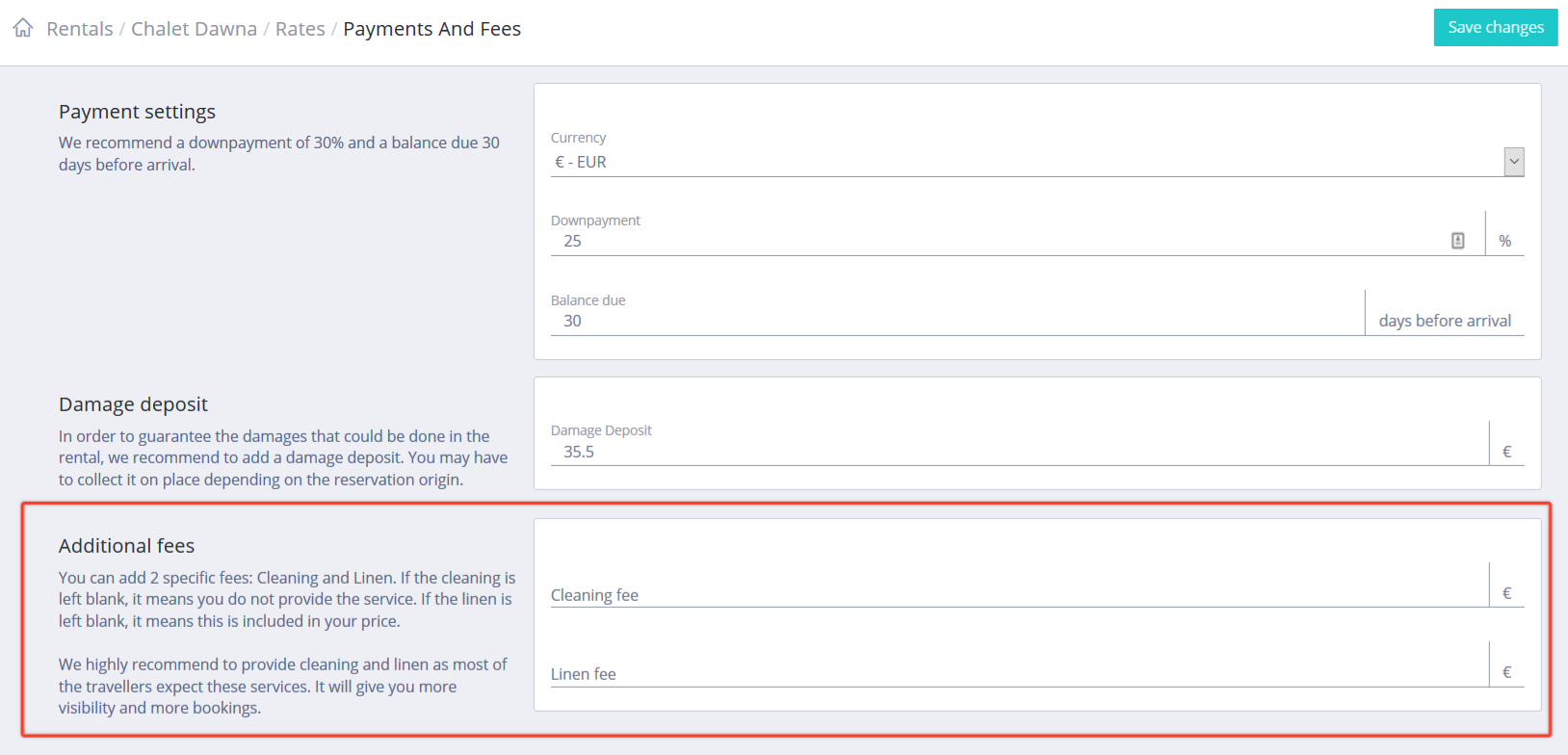 How will my prices appear on the platforms?

There is nothing for you to worry about there! Our system will automatically increase the prices that are configured in Smily by the commission amount taken by each platform. The commission will then be paid directly to the platform by the guest when a booking is made.
How much will I get then?
You will receive the booking amount less:
- the 9% + VAT (10.8% including VAT) Smily service fees
- the increase corresponding to the channel's commission ("service fee for the host" which are paid by the guest and then transfered directly to the channels such as Airbnb etc...)
You can find more information on this subject in the Payment transfers to your bank account section

How is the tourist tax paid?
Please note that, for bookings received through Airbnb, adding a "Meublés de tourisme" certificate, if you have one, will mean that the tourist tax can be calculated automatically for your rentals in France that are covered by this (if you don't add any certifications, Airbnb will still calculate the tax based on your rental's information). This platform takes care of collecting the tax and sending it to the commune directly so you don't need to worry about that.
For all other booking platforms, it is down to you to take payment of the tourist tax on your guests' arrival (if it wasn't paid together with the booking's price on the channel yet) and to pay it to your commune.